Our Association is active. Each year we hold a conference in a West Texas city. We visit, present papers, and exchange ideas and information. We publish a selection of papers in our annual publication, the West Texas Historical Review. Also, twice a year, we put out a newsletter highlighting people, places, and events throughout West Texas.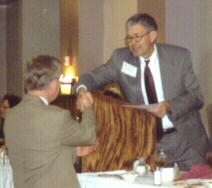 In addition, the Association works cooperatively with other historical groups such as the East Texas Historical Association and the Texas Oral History Association.
Award and grant applications are due on January 10. Award winners will be announced at the annual meeting of the Association during the presidential luncheon.
Caption: Paul Carlson presents to Fred Rathjen the 2000 Richardson Award for the Best Book on West Texas history.