2014
Ralph Brock was a member of WTHA and the Westerners Corral in Lubbock, as well as being a Texas Tech law school graduate who published scholarly articles in law review journals. [obituary and photo]
2012
Alexander "Alex" Soto Cano held bachelor's and master's degrees in history from Angelo State University and worked as a student archivist with the West Texas Collection from 2002-2003, after which becoming the University Archivist at Angelo State University. In 2002, he won the best student paper of the year award from WTHA. He had been awarded a full fellowship to Vanderbilt's PhD program before passing away on June 13, 2012. [obituary and photo]
Ralph Raymond Chase was born on January 3, 1923, in San Angelo, Texas. He received his BA from the University of Texas in 1943 and, after serving in World War II, went on graduate from Northwester University Medical School in Chicago in 1951. He moved to San Angelo in 1953 to practice at what would become the West Texas Medical Associates and at San Angelo Community Medical Center. [obituary and photo]
---
2011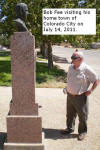 Long time member Bob Fee was a retired rancher and fan of West Texas history. He was plain spoken, forthright and a friend of the National Ranching Heritage Center, the West Texas Historical Association and the Southwest Collection. Fee passed away on September 12, 2011. On July 14th, he and Tai Kreidler visited Fee's childhood home town of Colorado City to tour the community and capture Fee's recollections of the town.
Julius DeVos of Fredericksburg, passed away at the age of 88 on August 21, 2011. Services were August 25 and interment was at the Hilda Cemetery, near Mason. Memorials should be made to the Hilda United Methodist Church... condolences may be sent to the family ONLINE at: masonfuneralhome.net.
Allen Grady Hatley Jr. was born June 24, 1930, in San Antonio, Texas, and passed away Sunday, July 17, 2011, in Boerne, Texas.
---
2010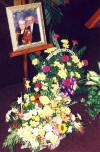 B. W. Aston, one of WTHA's Life Directors, passed away on March 25, 2010. Dr. Aston served as the second director of the WTHA and was instrumental in helping the organization grow and prosper. He also made numerous contributions to Hardin-Simmons University and served as a mentor to many of his history students. Dr. Aston will be much missed by all. [obituary] The image, left, was taken by Tai Kreidler at B. W.'s service.
WTHA is sad to announce the passing of Elmer Kelton, one of the most noted writers of the southwest. His passing was covered in the San Angelo Standard-Times article entitled "Area Mourns Loss of Kelton." [newspaper obituary]
Sharleen Wells Formby Rhoads passed away on December 8, 2010, leaving behind a legacy of historical and educational causes. She requested that the Marshall and Sharleen Formby Scholarship Fund be established at the Southwest Collection/Special Collections Library.
WTHA would also like to send its condolences to the family of Dr. Fred Rathjen. Following his passing away this weekend, his family requests that any memorials be made out to the Forman/Rathjen Scholarship at WTAMU. Donations can be made online at https://mercury.wtamu.edu/wtfoundation/ or by mail to WTAMU Foundation, WTAMU Box 60766, Canyon, Texas 79016 or by calling (806) 651-2070. [newspaper obituary; picture of Dr. Rathjen speaking at this year's TSHA meeting]
---
2009
Jacobs, Kenneth.
A Professor at Hardin-Simmons University, Jacobs had been an important member of our organization, for which he had served as a Life Director, the Year Book Editor from 1989-1995, and an associate editor. Ken Jacobs, together with B. W. Aston, guided the WTHA through the 1970s, 1980s and 1990s. [obituary and photo]
Phillips, Edward Hake.
One of Austin College's most honored professors, Edward Hake Phillips, died Saturday after complications caused by a recent fall. Dr. Phillips is survived by his wife of 58 years, Pat Phillips of Sherman, as well as two sons: Peter Phillips of Sherman and Dr. Jeffrey Phillips and wife Mary Lynn of Huntersville, N.C.; and three grandchildren: Rebecca, Jacob, and Abigail of Huntersville, N.C.
Dr. Phillips earned his Ph.D. at Harvard and taught at Rice University before joining the Austin College history faculty in 1959. He was recruited by then Austin College President Dr. John D. Moseley. Phillips went on to be one of the leaders in creating a new curriculum and a stronger liberal arts program. "I took a cut in pay and an increased teaching load because I shared Dr. Moseley's vision," he once said.
Dr. Phillips retired as Professor of History Emeritus in 1983. In addition to teaching courses in history of the U.S., he served as chair of the history department and taught several courses in the Heritage of Western Culture program. After retirement, his dedication to Austin College continued, and in 2001 he received the Heywood C. Clemmons Volunteer Service Award.
Dr. Phillips became a leader in the development of the Sam Rayburn Library and Museum in Bonham, established by Mr. Rayburn in 1957. Phillips served on the Board of Directors and conducted extensive research in the Rayburn papers. In 1978, he was a co-author (with H. G. Dulaney and MacPhelan Reese) of "Speak, Mr. Speaker," an extensive collection of speeches and other papers of "Mr. Sam," as Rayburn was known locally. In 1987, Phillips also served as co-editor (with Dulaney) of "Impressions of Mr. Sam: A Cartoon Profile."
In 2008, former students and colleagues of Phillips contributed funds to create an endowment to support an Edward Hake Phillips Scholar for an annual summer internship at the Sam Rayburn Library. When the formal announcement was made last fall at the College's homecoming festivities, the late Dulaney, long-time director of the Rayburn Center, praised Dr. Phillips for his many contributions toward making the Center the highly respected institution that it has become. A number of former students were also present to give testimonials and then to visit with their beloved teacher.
In the 1990s, Phillips began pursuing a new line of research that led to the publication of three scholarly books on the life and times of Dr. Gideon Lincecum, a prominent Texas physician and scientist. With Jerry B. Lincecum and Peggy A. Redshaw, he co-edited "Adventures of a Frontier Naturalist" (1994), "Science on the Texas Frontier" (1997), and "Gideon Lincecum's Sword: Civil War Letters from the Texas Home Front" (2001). The second book won two major awards: the Ima Hogg Award for Outstanding Achievement in Texas History and the Ottis Locke Award for the best book on East Texas history of 1997.
Dr. Phillips was born in Hamilton, Ohio, on Jan. 7, 1918, to Thomas L. and Hazel Hake Phillips. He was raised in Cincinnati, and after his maternal grandfather began taking him to Cincinnati Reds baseball games as a regular Sunday activity, he became a devoted baseball fan. He even served as a part-time talent scout for the Cincinnati Reds in the late 1960s and early 1970s, attending North Texas area high school games and reporting on promising players.
His interest in sports continued throughout his tenure at Austin College, and he was twice honored (in 1969 and 1983) with the Ellis Lockhart Spirit Award for supporting Austin College teams. Among student athletes, he was known affectionately as "Fast Eddie."
In another tribute, the Mason Athletic Complex on the Austin College campus includes The Edward H. Phillips Athletic Administrative Suite, funded in his honor by a former student and senior trustee. In 1978, Dr. Phillips received the highly coveted Homer P. Rainey Award, given by the Board of Trustees for outstanding service to Austin College.
After earning his undergraduate degree in 1940 at the University of Cincinnati, Phillips entered Harvard Business School. Like many others of his generation, he interrupted his education for service in World War II. He enlisted in the Navy, serving at Squantum Field in Massachusetts and Pensacola Naval Air Station in Florida.
Phillips married Patricia Northridge in 1950 in Boston. After living in Houston while he taught at Rice from 1950 to 1959, they moved to Sherman 50 years ago.
Dr. Phillips was actively involved in civic and professional organizations. As chair of the Grayson County Historical Commission, he was responsible for obtaining several Historical Markers for the county. He was a member of the Sam Rayburn Library Board of Directors, the Texoma Outdoor Club, the Sherman Preservation League, the Texas State Historical Association, and the Southwestern Historical Society.
A founding member of the Red River Historical Museum in Sherman, Phillips also served as an elder at Grand Avenue Presbyterian Church and directed the centennial observances of the congregation in 2001.
~obit titled "Former Austin College professor dies," by Jerry Lincecum of Herald Democrat (Sherman, TX), Saturday, August 15, 2009.
Raun, Gerald.
Gerald Raun was born July 14, 1932 in Maryville, Missouri. After living in Lincoln, Nebraska, San Francisco, California, and Tulsa, Oklahoma his family moved to Odem, Texas, where he graduated from high school in 1949.

Gerald enrolled at the University of Texas at Austin in 1956 and received an M.S. in Zoology in 1958 and a Ph.D. in Zoology in 1961. His thesis was an ecological study of the terrestrial and aquatic vertebrates of Palmetto State Park, a moist, relict area in Central Texas. He was awarded a Welder Wildlife Foundation Fellowship and spent threes years at the Welder Wildlife Refuge near Sinton, Texas, where he completed the field work for his dissertation, a study of the population dynamics of the woodrat, Neotoma micropus.

Gerald was appointed Curator of Zoology at the Texas Memorial Museum in Austin, in 1960, where he served until accepting an appointment as Assistant Professor of Biology at North Texas University in Denton in 1967. He was promoted to Associate Professor, and in 1970s, moved to Angelo State University in San Angelo as Professor and Head of the Department of Biology. He remained at Angelo State until 1978 when he resigned and entered private business.

He became involved in advertising, including positions with the San Angelo Standard Times and the Thirty Nickel. He became publisher of the Devil's River News in Sonora, Texas and in 1989 moved to Alpine as publisher of the Alpine Avalanche. He retired in 1993 and returned to research interests including Trans-Pecos cacti and the history of the Big Bend, particularly as affected by the Mexican Revolution 1910-1920.

Gerald served for almost ten years as Editor of the Texas Journal of Science and was a Fellow and Honorary Life Member of the Texas Academy of Science. He held offices as Secretary, Vice President, and President of the Texas Herpetological Society. He was a member of the Board of Scientists, Chihuahuan Desert Research Institute, the Advisory Council of the Center for Big Bend Studies, and also served on the Center's Editorial Advisory Board. He was an adjunct Professor Biology at Sul Ross State University and served on the Alpine City Council.

Gerald authored two books, one book chapter, several monographs and over 50 scientific articles dealing with amphibians, reptiles, and mammals of Texas, and more recently on cacti. He has also authored several historical articles which have been published in the Journal of Big Bend Studies. Most recently, he compiled an index of the first eight volumes of the Journal. He passed away on March 25, 2009.

~Obit condensed and edited from "Spotlight on Gerald and Dian Raun," in La Vista de la Frontera, the newsletter of the Center for Big Bend Studies, Summer 1997, Sul Ross State University
Rodenberger, Lou.
Dr. Lou H. Rodenberger died peacefully April 9 at her home north of Cross Plains. Her funeral is scheduled at 2 p.m. Saturday April 11 at the First United Methodist Church in Cross Plains. The service will be conducted by Rev. Dr. Robert Monk and Rev. John Woody.
Dr. Molcie Lou Halsell Rodenberger was born September 21, 1926 in Okra, TX to Austin Carl and Mabel Falls Halsell. She attended schools at the many schools where her parents taught in West Central Texas. She started high school in Cross Plains but graduated from Anson as Valedictorian. At age 16 she entered Texas State College for Women graduating with a BS degree in Journalism in 1943. She worked for the Kerrville Times before becoming the English and Journalism teacher at Levelland High School in 1947. There she met and married Charles A. Rodenberger Sept. 3, 1949.
When Texas A&M admitted women she became one of the first graduate students obtaining her Masters and PhD degrees in English. She was honored as an outstanding graduate student teacher. In 1982 they moved to Abilene where she taught English at Cooper High School for two years. She then moved to the home they built north of Cross Plains where she commuted to teach first at Cisco Junior College then taught for 12 years at McMurry University where she retired as Professor Emeritus and was honored twice as the outstanding faculty member.
As an author she published a number of books primarily on Texas Women Writers. Her latest book published by Texas Tech University Press was a biography of the West Texas author Jane Rushing who worked at the Abilene Reporter-News and wrote in Lubbock. Her best selling book was Quotable Texas Women co-authored with Susie Flatau and published by State House Press. With co-author Dr. Sylvia Grider she wrote Texas Women Writers and Letís Hear It: Short Stories by Texas Women published by Texas A&M Press. She published many essays and articles with her story of Tom Lea published in the Round Up winning the Stirrup Award in 2007 and an article in 2008 winning the 2009 Award from the Western Writers of America.
Dr. Rodenberger is a regent of Texas Womanís University where she was awarded the Distinguished Alumnus Award. She served on the TWU Foundation and was active in the Texas Womens Library at TWU. She is a fellow of the Texas State Historical Association, served as President and awarded a Fellow of the Texas Folklore Society, served as President and awarded one of the first fellows of the West Texas Historical Society and was a director of Western Writers of America. She was a member of the Texas Institute of Letters and served as director. She served on the executive committee of the Western Literature Association.
She was a member of the Cross Plains First United Methodist Church and a supporter of the Cross Plains Public Library and Project Pride.
She is survived by her husband Dr. Charles A. Rodenberger, Baird, TX, daughter Kathryn Sue Wilcox and husband Keith of San Antonio, son Mark Rodenberger and wife Mary Kathryn of Weatherford, TX, granddaughters Valerie Wilcox of San Antonio, Vanessa Wilcox of Lubbock, Ashley Pagenkopf and husband Ross of Fort Worth, grandsons Jim Wilcox and wife Mandi of Devine, TX and Jon-Marc Wilcox of San Antonio as well as great-grandsons Christopher and Brent Wilcox of Devine. Her sister Sue Neal and husband Ike of Cross Plains. She has many nephews and nieces and former students and friends.
Burial will be in Admiral Cemetery where her parents are buried.
Yates, Jack.
Jack Yates of Abilene, Texas, passed away on January 26, 2009. He was a long time member of the Association and was a close friend of Kenneth Neighbours. He practiced law and lived history. In fact, he was working on a compilation of his great grandfatherís Civil War letters. His wife, Ruby, hopes to complete the project.