Below are past news snippets on WTHA members.
Current WTHA news is available on our Facebook page.
2016:
Bill O'Neal and his lovely wife, Karon, have once again written up a detailed recap of our 2016 meeting in his blog, Lone Star Historian 2, along with numerous images of the presenters and attendees.
2015:
Congratulations to Alvin R. Lynn! His book, Kit Carson and the First Battle of Adobe Walls, is the 2015 winner of the Will Rogers Medallion Award.
2014:
Congrats to Patrick Dearen. On March 28th his book The Big Drift received the Elmer Kelton Fiction Book of the Year award from the Academy of Western Artists.
Teresa Roberts Harkey, a WTHA Life Member, was one of three nominees for the outstanding Texas Librarian award from the Texas Library Association. Congratulations to Teresa and to her proud father, Travis Roberts who serves on the WTHA board.
WTHA sends our condolences to the family of Ralph Brock. Ralph was a member of WTHA and the Westerners Corral in Lubbock.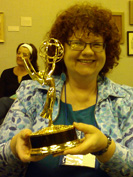 Jean Stuntz participated in the "Telling Our Stories in Print: A Roundtable with Local Books, Authors, and Publishers" session during the Texas Plains Trail Region's Tourism & Preservation Roundup 2014. Barbara Brannon and Tai Kreidler were also panelists for the session titled "Roundup of Projects in the Texas Plains Trail Region." The main speaker was Chet Garner from PBS's Day Tripper program. Garner allowed members of the audience to hold his Emmy award. Pictured to the right is Dr. Stuntz with the award.
Congratulations go out to Sherry Robinson for her book, "I Fought a Good Fight: A Hisotry of the Lipan Apaches," which received the 2014 Fray Francisco Atanasio Dominguez Award from the Historical Society of New Mexico.
Several WTHA members presented papers in a sponsored session at the April 18-20th meeting of the Historical Society of New Mexico in Las Cruces, NM. WTHA session participants include Troy Ainsworth (chair), WTHA President J. Tillapaugh, Marisue Potts, and Robert Hall. Other WTHA members on the HSNM program included Jack Becker, Bruce Glasrud, Harry Hewitt, Cameron Saffell, and George Cooper. Next year's meeting will be held in Las Vegas, NM. WTHA members who are interested in presenting at next year's HSNM meeting should contact WTHA offices.

This year's meeting in Odessa has successfully concluded. Thanks go to all those who participated in our 2014 meeting, to the Odessa Convention and Visitors Bureau for all their help planning this wonderful meeting, and to the Petroleum Museum for hosting us for our Friday night dinner. Our incoming President, Bill O'Neal, regaled us with hilarious stories of his on the road adventures as the State Historian for Texas while our outgoing President, J. Tillapaugh, announced his ongoing dedication to preserving the history of the Permian Basin area by establishing an endowment. Both are pictured to the left.
Donald W. Whisenhunt, professor of history emeritus from Western Washington University, has a new book out titled "A Study of Utopian Movements and Ideas in the Great Depression: Dreamers, Believers, and Madmen."
Sponsored by the Jones County Historical Commission, Cheryl Lewis gave a presentation on February 24th on Rath City (1876), Buffalo Hunters, Double Mountain, and the history of Jones and Stonewall Counties at the Jenkins Conference Center of the Anson Public Library.
Bill O'Neal's speaker series "Gunfighterology" was featured by KLTV on March 20, 2014. A heavily published scholar, Bill is only the third person to hold the title of State Historian of Texas. Read the article here.
2013:
The Recent Publications and Presentations page spotlights WTHA members activities from 2006-2013.

On the Road with WTHA has photographs and news from our membership's latest travels to promote the organization. The image to the right is from the Friday evening banquet for the opening of the Charles Goodnight Historic House and the Visitor's Center.

John McCullough stands by the newly installed Breedlove Airport marker. THC's William McWhorter attended the event on June 6, 2013, at E. 50th Street in Lubbock Texas, as part of Lubbock's D-Day celebration.
Joe Specht spoke on the topic of Oil Field Songs at Buffalo Gap Historic Village on March 9, 2013.
Authors Chuck Parsons and Norm Brown discussed their research and sign copies of "A Lawless Breed," the story of John Wesley Hardin, Texas Reconstruction, and violence in the Wild West on June 13, 2013, at Ruby Lane Books & Gallery on 127 E. Main in Post, Texas. Published by UNT Press as part of the A. C. Greene Series, the book presents newly found information about Hardin & his family including a chapter on his brother, Jeff Hardin, who lived in the Clairemont area and caused some trouble in Scurry County.


In October, Bill Neal (pictured to the right) gave a talk as part of the book signing event at the Quanah, Acme and Pacific Museum in Quanah, Texas. Afterwards, Bill O'Neal, the Texas State Historian, gave a presentation and then presented the Southwest Collection/Special Collections Library with 38 reels of microfilm from the Quanah Tribune-Chief dated from 1889-1946. Bill Neal, Tai Kreidler and Bill O'Neal (pictured to the left) were also featured in the Vernon Record newspaper on October 20, 2013.
---
2012:

Several members of WTHA attended the Quanah Parker Trail Giant Arrow installation on July 12, 2012, at 2:30 p.m. at the entrance way gate to the American Museum of Agriculture, located at 1501 Canyon Lake Drive in Lubbock, Texas. Those in attendance included Delores Moser, Robert Hall, Lynn Whitfield, Randy Vance, Emerson Tucker, Sally Murray, Monte Monroe, Holle Humphries, and Tai Kreidler.
Henry Crawford, Randy Vance, and Tai Kreidler help erect the arrow before pouring in the concrete and water needed to stabilize the arrow. The Lubbock Avalanche-Journal ran a story with additional photographs under the headline " Arrows Still Falling in Comanche Battle with Buffalo Hunters.

The arrow installation in Abnerathy took place on July 4th in Hale County. More images of the installation are available here, as well as images from the arrow installations at Blanco Canyon, Borger, Channing, Lubbock, Plains, Rocky Ford, Spur, Sudan, and Swisher.
WTHA sends our condolences to the family of Hubert Holiday Strom. Hubert was a long-time member of WTHA and served on our board.
Paul Carlson and Jack Becker's book, "Georgia O'Keefe: The Art of Desolation," was featured in a March 2012 issue of Texas Tech Monthly.
WTHA sends its condolences to the family of Ross McSwain. Author of the weekly "Out Yonder" column in the San Angelo Standard-Times for over 30 years, McSwain also wrote nonfiction books and was a well respected historian. The newspaper ran the article "Ross McSwain Remembered" on November 5, 2012.
Books by three of our members were recently reviewed in local newspapers. Patrick Dearen's "To Hell or the Pecos" was featured in the October 22nd issue of the Midland Reporter-Telegram. Bill O'Neal's "The Johnson-Sims Feud: Romeo and Juliet, West Texas Style," a tale about a feud between ranching families right before the Civil War was featured in the October 28th issue of the Brazosport Facts. Peter R. Rose's book "The Reckoning: the Triumph on the Texas Outlaw Frontier" was featured in Ross McSwain's October 6th article in the San Angelo Standard-Times.
Scott White's latest book, "Getting By in Hard Time: Letters from the Pitchfork Ranch,"gives a rare view on the running of the Pitchfork Ranch in the late 1930s during a time of economic depressions and drought. His other latest publication, Viento, centers around interviews conducted about ranching and wind energy.
On October 13th, author Peter R. Rose gave a talk followed by a book signing on his book "The Reckoning: The Triumph of Order on the Texas Outlaw Frontier" at the Fellowship Center of College St. Church of Christ at 805 College Street in Junction, Texas, on October 13, 2012.
On September 29, 2012, as part of the Adobe Walls Trek event, Paul Carlson gave a talk on the book he co-authored with Tom Crum called "Myth Memory and Massacre" about the recapture of Cynthia Ann Parker, mother of Comanche Chief Quanah Parker, and Holle Humphries, who is a Quanah Parker Trail Steering Committee member, spoke about the Quanah Parker Trail and the trail of arrows throughout the region. Afterwards, there was a trip to the Adobe Walls sites accompanied by presentations by Dr. Jeff Indek, Curator of Archeology at Panhandle-Plains Museum, and Mr. Alvin Lynn, renown trail and West Texas history researcher.
J'Nell Pate spoke about her latest book, "Arsenal of Defense: Fort Worth's Military Legacy." at the W. K. Gordon Center for Industrial History in Thurber, Texas, on September 16, 2012. A book signing followed.
Joe Specht has been named the 2011 recipient of the East Texas Historical Association's Chamberlain Best Article Award for "Oil Well Blues: African American Oil Patch Songs."
Leland Turner, formerly of the History Department at Southwestern Oklahoma State University in Weatherford, OK, has accepted a position as Associate Professor at Midwestern State University in Wichita Falls, Texas.
Cameron Saffell, former curator at the NM Farm and Ranch Heritage Museum, has been hired by the Museum of Texas Tech University.
Congratulations to John Caraway, a former WTHA Percy Jones Best Article Award Winner who has been hired on as a full-time professor at Cisco College.
John McCullough presented the "Politics Behind the Air Power in WWII-Era Lubbock" at the Hillcrest Country Club, in Lubbock, Texas on August 7, 2012.
On June 24, 2012, Everett Kindig gave a talk on the War of 1812 as part of the Museum of North Texas History's "Bit of History" lecture series.
Sam Watt's investigation on Blanco Canyon and the battle between Ranald MacKenzie's cavalary and Quanah Parker's Comanche was featured in the May 31, 2012 issue of the Floyd County's Hesperian-Beacon under the headline "Rewriting Blanco history, one visit at a time."
WTHA sponsored a session entitled "Texas and new Mexico: West Texas Historical Association Session" at the Historical Society of New Mexico annual meeting in Santa Fe on May 4, 2012. Bruce Glasrud presented on "Black Americans in West Texas," Peggy Hardman on "Revisiting the Big Boom in Tolar, New Mexico," and Jack Becker on "Georgia O'Keeffe: Was She a Texan Before She was a New Mexican." Marisue Potts moderated the session.
Lonn Taylor had a book reading and signing for his book, "Texas, My Texas: Musings of the Rambling Boy," at Front Street Book in Alpine on February 23, 2012.
J'Nell Pate and Bill Neal were among the participants of "A Gaggle of Fort Worth Authors," hosted by the For Worth Library at the Central Library on February 8, 2012. She spoke about her book "Arsenal for Defense: Forth Worth's Military Legacy" and Bill discussed his book "Vengeance Is Mine."
WTHA sends our condolences to the families of Alexander "Alex" Soto Cano and Ralph Raymond Chase.
---
2011: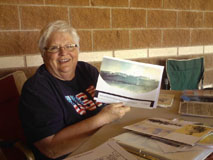 Those attending this year's Frontier Days at Caprock Canyon State Park in Jerry Leatherman, Henry Crawford, and Marisue Potts. Ada Lester, pictured right, was promoting her upcoming Fort Elliott Buffalo Solder commemoration event set for June 14th.
Joe Specht has been named the 2011 recipient of the East Texas Historical Association's Chamberlain Best Article Award for "Oil Well Blues: African American Oil Patch Songs."
Jay Moore has received the Award of Merit from the American Association for State and Local History Leadership in History Awards for his DVD "History in Plain Sight."

Tai Kreidler and Monte Monroe also visited with folks at the Muleshoe National Wildlife Refuge and the State Line Tribune to look over some of the collections available at these institutions.
On October 22, 2011, Dominick J. Cirincione and J'Nell Pate had a book signing for their latest book,"Sesquicentennial Wagon Train," at the Fort Worth Stockyards to celebrate the train's 25th anniversary.

On August 6, 2011, Clark Hitt presented his findings on the Texan-Santa Fe Expedition of 1841 to a crowd at the Wichita Brazos Museum and Cultural Center meeting in Benjamin, Texas. Also in attendance were Bill Townsley, Dorlores Moser and Holle Humphries, who took the photograph of Hitt.
On August 4, 2011, the San Angelo Standard Times published an article on Ross McSwain and his new book, "Warnout Memories." Link
Elleta Nolte eighth book, "Indeed You Can," is now available for purchase. [press release]
Bill Neal's latest book, "Vengeance is Mine: The Scandalous Love Triangle that Triggered the Boyce-Sneed Feud," was released by UNT in July, 2011. The San Antonio Express-News published a review of his book on August 7th.

The Mountain-Pecos Regional History Conference in Sanderson on May 21st was attended by several WTHA members. Photos and a short recap can be viewed by clicking on the picture of Troy and Paul to the right.

WTHA hosted a session titled "Bosque Redondo: A Retrospective" at the Historical Society of New Mexico conference in Ruidoso, NM, from May 5-7. Peggy Hardman and Robert Hall presented and Bruce Glasrud presided. The strong turnout resulted in HSNM and WTHA agreeing to exchange sessions for the 2012 meetings in Santa Fe (HSMN) and Alpine (WTHA).
WTHA sponsored a session at the the Oklahoma Historical Society annual meeting in Enid, Oklahoma, from April 27-29, 2011. The session,titled "Open Country: Droughts, Land Rush, and Pioneers of the Oklahoma and Texas Plains," was moderated by Bruce Glasrud, with presentations were by Robert J. Hall on "The Opening of Oklahoma: A Family Story," Kevin Sweeney on "Boomer Bust: Boosterism and the Southern Plains Drought of 1885-1887," and Leland Turner on "People of the Wind: The Transformative Effect of Wind Energy Technology and Rangeland Economies on the Southern Plains." Robert was not able to attend but his presentation was given in his stead. Clint Chambers also gave a presentation on "Jack Stillwell: Frontier Scout, Hunter, Lawman, Judge" in a separate session. Pictured to the right is Clint Chambers and Bill Bennett.
Michael Cox has published his latest collection of Texas history and tales in the book, "West Texas Tales."
Mike Cox's review Ely's book in his May 14, 2011, Austin Statesman-American column can be read here.
On April 29, 2011, Texas Radio ran a 10-minute segment on Glen Ely's new book, "Where the West Begins: Debating Texas Identity," on their "Texas Matters" weekly show. Broadcast over thirty stations, the show can be heard online at http://www.tpr.org/programs/texasmatters.html
Ely's book was also featured in the Fort Worth Start-Telegram's "News and Notable" section on March 7, 2011, and in an in-depth interview on April 5, 2011. The interview is still available for reading here.

Tom Crum and Paul Carlson's book, "Myth, Memory and Massacre: The Pease River Capture of Cynthia Ann Parker," received a favorable review in the January 2, 2011, issue of Corpus Christi Caller-Times. With Tom Crum, a group [pictured at right] gathered at Pease River to mark the 150th anniversary of Parker's recapture. Attendees included Don Parker, Lance Tahmahkera and Juanita Pahdopony of the Comanche Nation.

Once again, WTHA held a session at the Center for Big Bend Studies meeting in November, 2010. Presenting were Paul Carlson, Tom Crum, and Peggy Hardman, with Bruce Glasrud presiding [all pictured at right]. Leland Turner presented in a separate session on the history and influence of Roy Orbison.
On September 10, WTHA member Sylvia Mahoney moderated the panel discussion titled "Teddy Roosevelt: West, Women, War, Washington, 'The Dakotas Influenced Teddy's Historical Legacy About Women's Rights, Nature, Conservation, Politics, Government, and War, and Continues to Influence Americans Today'" during the annual National Cowboy Symposium & Celebration in Lubbock, Texas.
Congratulations to members featured in Print:
Glen Sample Ely's "Where the West Begins: Debating Texas Identity," with forward by Alwyn Barr.
Robert A. Fink wrote the introduction for "Vanitas: Poems" by Jane McKinley, Texas Tech University Press, 2011.
Elmer Kelton wrote the foreword for "A Taste of Texas Ranching" by Tom Bryant and Joel Bernstein, Texas Tech University Press, 2011.
On March 2, 2011, Angelo State University's History Department, West Texas Collection and Multicultural Center marked the 175th anniversary of the Texas Declaration of Independence with a special ceremony at ASU's Houston Harte University Center on 1910 Rosemont Drive. Events included Dr. Arnoldo De Leon, ASU professor of History and WTHA Fellow, presenting on "A Multicultural Revolution."
In January, 2011, Ramona Roberts received the first Historical Preservation Award from the Hale County Historical Commission for her ongoing efforts to save their local history. The full news article on Ramona is available on the Plainview Daily Herald's site.
---
2010:
Congratulations to members featured in Print:
Marty Kuhlman's "Always WT: West Texas A&M Centennial History." The Book is featured in this WTAMU press release.
Diane Hueter Warner's chapter "Leaving Vineland" in To Everything on Earth: New Writing on Fate, Community and Nature.
Rob Fink's book "Playing in Shadows: Texas and Negro League Baseball."
Tom Alexander's book "Stanly Marcus: The Relentless Reign of a Merchant Prince."
Dolores Mosser's children's book, "A Train Story," with illustrator Nathaniel P. Jensen.
Fundraising continues to have a bronze statue in Elmer Kelton's honor [online article]
Member Robert Reitz has been busy in 2010. In November he was speaker for a group of early Texas art collections at the historic Turner House in Dallas. He curated two exhibits - a year-long exhibit on Dallas and Texas blues at the downtown Dallas Library title "Got Arrested for Forgery and I Can't Even Write My Name" and a large exhibit on 100 years of Boy Scouting at the downtown library fort he Scout's 100th anniversary. Also, he is helping with a documentary on early Dallas artist Frank Reaugh. A five minute preview of the photo shoot can be found at the Marla Field's website.


Alvin Davis, longtime member of WTHA, visited the Southwest Collection on December 2, 2010, and brought by several of his photographs and accolades, which include such honors as induction into the 4-H Hall of Fame and a gift from Ron Parker of the National Museum of the American Indian. Back in the September at the National Cowboy Symposium, Monte Monroe and Tai Kreidler had their photo taken with the longtime director of the symposium.
The International Cultural Center hosted a photography exhibit titled "High and Dry X: A Photographic Exhibition of Peoples and Places of the World's Dry Lands" which featured images by two of our members, Robin Clark and Bill Wright.
Jean Stuntz and Claudia Stuart signed copies of their new book, African Americans in Amarillo, at the Amarillo Sam's Club on December 4, 2010.
On November 10, 2010, Harry Hewitt, chairman of the History Department at Midwestern State University, along with professor Claudia Montoya, presented a program title "The Centennial of the Mexican Revolution: A Quest for Identity since 1910."
The 2010 Excellence in West Texas History Fellowship recipients are:
Marie Nicholson-Preuss (Ph.D., University of Houston): A History of Medicine in West Texas. From pioneer doctors on horseback to high-tech modern medicine, Nicholson-Preuss examines the transition in medicine on Texas' western frontier over the last century. One of the biggest issues in delivering quality medical care to West Texas since the 1890s has been the vast distances that often separated doctors and patients. Another problem has been adapting new techniques and technologies developed in urban medical centers to rural communities. Because of these significant challenges, West Texas, in many respects, remained a frontier region in medicine throughout much of the twentieth century.
Margaret Bickers (Ph.D., Kansas State University): A History of the Canadian River in Texas. To date, there has been little scholarship on the Canadian River and its relation to the history of the High Plains region of Texas. Bickers' work examines the human and environmental impact on the Canadian River watershed and the resultant changes, from the 1890s through the end of the twentieth century. Since much of Texas' South Plains depends upon water from the Canadian River, this is a most important regional study. By studying man's use of this watershed over the last century, Bickers provides valuable insights and lessons for High Plains' residents, as they weigh future decisions on utilizing the region's natural resources for local needs and economic growth.
Sammie Simpson's work with the Muleshoe Wildlife Refuge is mentioned in the November 8, 2010, Lubbock Avalanche-Journal's article "Westbrook: Muleshoe Wildlife Refuge, the first in Texas, was built the hard way."
Ty Cashion was recognized as a distinguished alumnus by Austin College.
The A. C. Greene Literary Award was presented to Mike Cox at the 10th Annual West Texas Book & Music Festival in Abilene on September 25, 2010. Congratulations, Mike!

Stamp Cancellation Project 2010: 52 Counties = 52 Weeks of Fun! The TPTR and the U.S. Postal Service partnered together to do a pictorial postmark in the county seat of 52 counties in the Plains Region beginning Wednesday, January 6, 2010. Each Wednesday of 2010 a different post office in a different county would do a pictorial postmark. Dates for each county's event can be found on the Texas Heritage Trails Program's website. Pictured at the right are, from left to right, Linda Germany (TPTR White Deer), Mike Germany (TPTR White Deer), Deborah Sue McDonald, Executive Director, TPTR, in the center - Cathy Baggett, PM - Panhandle, TX, Viola Moore, Director, Carson Co. Square House Museum, and Millie Robertson, Post Office Assistant. Photo and identifications courtesy of Rick Vanderpool.
Roy Sylvan Dunn, an early member of WTHA and the 2nd Director of the Southwest Collection/Special Collections Library, passed away on April 22, 2010, in San Antonio.
Thanks for taking our poll! Results for the "What are your top ten Western movies of all time?" poll are as follows: #1 - High Noon (59%); #2 - The Searchers (47.6%); #3 - Butch Cassidy and the Sundance Kid (41.7%); a two-way tie for #4 - Shane and The Magnificent Seven (40.5%); #5 - The Man Who Shot Liberty Valance (39.3%); a three way tie for #6 - Tombstone, The Outlaw Josey Wales and The Unforgiven (32.1%); a two-way tie for #7 - Dances with Wolves and Rio Bravo (31%); #8 - The Good, The Bad and The Ugly (29.8%); #9 - Red River (28.6%); and #10 - Open Range (25%). The top movie "write-ins" (movies on originally on the list but written in by voters) were Lonesome Dove; Stagecoach; The Shootist and Jeremiah Johnson (tied); How the West of Won; McLintock, 3:10 to Yuma, The Big Country, and The Sons of Katie Elder (4-way tie).
On July 31, 2010, the Victoria Public Library held an author's panel on the lives of Texas Rangers. Presentations were given by Chuck Parsons on his book "John B. Armstrong, Texas Ranger and Pioneer Ranchman: Lawman and Rancher," by Dr. Harold Weiss, Jr., on his book "Yours ot Command: The Life and Legend of Texas Ranger Captain Bill McDonald," and by Dr. Paul Spellman on his book "Captain J. A. Brooks, Texas Ranger." Parsons and Weiss are both members of WTHA.
Kenneth W. Davis gave a presentation titled "Every Thing but the Squeal - Hog Killing and Curing Meat in Texas" at the 94th Annual Meeting of the Texas Folklore Society.
David Murrah, a past WTHA president, was the banquet speaker for the 2010 annual meeting of the Texas United Methodist Historical Society. The meeting, held in Lubbock from March 26-27, focused on the 1910 division of the original Northwest Texas Conference into the existing Northwest Texas and Central Texas conferences, both of which were celebrating their centennials this year. Dr. Murrah's presentation was entitled, "Created by Man, Divided-by God!"
Gene Preuss has received word that his book "To Get a Better School System" from Texas A&M Press (2009) was nominated as a finalist by the Texas Institute of Letters. The awards ceremony will take place on May 1, 2010, in Austin. Good luck, Gene!
On January 8, 2010, Tom Alexander was interviewed on Think on Dallas's KERA PBS channel about his new book. On January 31, 2010, Tom and Rena Pederson did a presentation and book reception on the publication of his new book, "Stanly Marcus: The Relentless Reign of a Merchant Prince" at the Margaret and Al Hill Lecture Hall at the Hall of State at Fair Park. The event was hosted by the Dallas Historical Society. [event PDF]
"Remembering Elmer Kelton, 1926-2009," an exhibit in Kelton's own words of the late author's books, promotional posters and photos, is now showing at the National Ranching Heritage Center in Lubbock, Texas. Kelton was voted by Western Writers of America in 1995 as the best western writer of all time. He died Aug. 22, 2009, in San Angelo.
---
2009:
Honors, awards and achievements by our members:
Congratulations to Sylvia G. Mahoney for receiving the 2009 National Intercollegiate Rodeo Association Alumna of the Year buckle at this year's 2009 College National Finals in Casper, Wyoming.
Congratulations to Bruce Glasrud for receiving TSHA's Liz Carpenter Award for Best Scholarly Book on Texas Women's History. His book, Black Women in Texas History, was co-authored by Merline Pitre.
Ken Untiedt has received tenure at Stephen F. Austin and has been promotion to the rank of associate professor.
Angelo State University History professor Arnoldo De Léon was one of two to be named as the university's first recipients of the Texas Tech University System Chancellor's Council Distinguished Teaching Award and Chancellor's Council Distinguished Research Award. Last year, De Leon was named as a "Fellow" of the WTHA.
Congratulations to members featured in Print:
Kenneth Davis has been given the distinction of being elected a Fellow of the Texas Folklore Society at its 2009 meeting.
Photos from Earl Elam's book signing at the Texas Heritage Museum at Hill College are featured in the museum's Spring 2009 newsletter.
Michael L. Collins book "Texas Devils: Rangers and Regulars on the Lower Rio Grande, 1846-1861" was featured in a March interview in the Wichita Falls Times Record News. [online article and photo]
Rob and Tiffany Fink's book on the First Baptist Church in Abilene, Texas, is featured in a February interview with the authors. [online article and photos]
Fred Rathjen and Peter L. Petersen's new book, "A Century of God's Grace: A History of Lutheranism in the Texas Panhandle 1908-2008" was featured in the January 10, 2009, issue of the Amarillo Globe-News. [online article and photo]
---
2008:

On December 23, 2008, Paul Carlson, Donald R. Abbe and Monte Monroe held a book signing event for their book "The Centennial History of Lubbock" at the Centennial Christmas Store at the Kingsgate Center in Lubbock, Texas. The book is available in hardcover and a leather bound edition.

In celebration of American Indian Heritage Month, Dr. Paul Carlson presented on "Comanche, Texas Rangers, and the 1860 Recapture of Cynthia Ann Parker" on November 18, 2008, as part of the Center for International and Multicultural Affairs' November Diversity Lecture Series. [flyer]

Travis Roberts was inducted into Sul Ross's Hall of Honor in November, 2008. [newspaper photo]

WTHA participated in the annual meeting for the Center for Big Bend Studies in Alpine. Robert Reitz (Frank Reaugh: Pastel Artist of West Texas), Troy Ainsworth (Henry Trost: Architect of El Paso), and Holle Humphries (Luis Jimenez: Texan Sculptor) presented a panel session entitled, "Beyond the Alamo: How Do Other Artists, Architects and Artworks Exemplify the Iconic Texas West?", with Lynn Whitfield presiding.

Elmer Kelton participated in The Way Out West Texas Book Festival, sponsored by the Alpine Rotary Club, on August 7, 2008, in Alpine.

Angelo State University's West Texas Collection received a nice write up in the September 30, 2008 edition of the Standard-Times [article]

Don Frazier gave a presentation on August 9, 2008, in Franklin, Louisiana, for the Young-Sanders Center for the Study of the War Between the States in Louisiana. [web page]

Michael Collins, a professor at Midwestern State University, was named as a Piper Professor on May 1, 2008. [press release]

Noel Parsons was inducted into the Texas Institute of Letters at the organization's April meeting.

At the March 2008 TSHA meeting, Bruce Glasrud was inducted as a Texas State Historical Association Fellow.

JoAnn Pospisil has been appointed as the director of the Baylor College of Medicine Archives.

John Miller Morris won the Robert Calvert Award for best new manuscript accepted for publication by Texas A&M Press.

Rob Fink is serving as a visiting professor of history at McMurry University.

On July 28, 2008, the Rotary Club of Vernon dedicated a Western Trail Marker in Regina, Saskatchewan, Canada. Co-Chairman Sylvia Mahoney addressed the more than 100 Rotarian and invited luncheon guests at the event.

In February, Sylvia Gann Mahoney was a guest speaker at the 2008 Guy Caldwell Western Heritage Lecture at Hardin-Simmons University.

Paul Carlson recently gave a brown bag presentation on his latest book, "Slavery to Integration: Black Americans in West Texas," at the Abilene Public Library.

Suzanne Campbell was featured in January 27th issue of the San Angelo Standard-Times on the book "Feast of Our Spirit," a book for which she was the lead writer. The book was distributed as part of the inaugural Feast of Santa Angela.

A gallery guide on the exhibit "The Pastel Range: Frank Reaugh, Ranch Historian" produced by the National Ranching Heritage Center and the Southwest Collection/Special Collections Library won the Judge's Choice Award at the 2008 ADDY Awards, which was hosted by the Lubbock Advertising Federation.

We would like to extend our condolences to the families of Paul Patterson, Eddie Guffee, Ralph O. Harvey Jr., and Mrs. Barbara Neal Ledbetter on their passing. Barbara wrote a lot on Texas topics and had submitted several articles to the Yearbook over the years. More information on her career can be found here. Ralph's interest in local history is documented in this article.

2007:

Cameron L. Saffell, curator of agriculture at the New Mexico Farm and Ranch Heritage Museum in Las Cruces, received his Ph.D. from Iowa State University in December 2007.

Clifton and Shirley Caldwell have been named as inaugural recipients of the Humanities Texas Award in the December 2007 e-newsletter.

A Midland Reporter-Telegram article entitled "Will the Mallet Ranch Become an Outdoor Center" discussed Christena Stephens efforts to help preserve the Mallet Ranch.

Paul Carlson recently gave a brown bag presentation on his latest book, "Slavery to Integration: Black Americans in West Texas," at the Abilene Public Library.

A Midland Reporter-Telegram article entitled "Will the Mallet Ranch Become an Outdoor Center" discusses Christena Stephens efforts to help preserve the Mallet Ranch.

H. Allen Anderson has been appointed to the position of University Historian for a three-year project to write the history of Texas Tech University.

Lou Rodenberger received the Stirrup Award for Best Article in The Roundup publication by the Western Writers of America for her article entitled, "Tom Lea, Novelist: The Eyes of an Artist, the Ears of a Writer."

Starting in August, Rob C. Fink will be serving as a Visiting Assistant Professor of History at McMurry University.

Several members moved up in rank at their university positions. At Hardin-Simmons University, Tiffany Fink was granted tenure. At Texas Tech University, Freedonia Paschall was promoted to Archivist, while her co-worker, Monte Monroe, received tenure and was promoted to the rank of Associate Archivist.

Once again, WTHA held a session at the annual meeting for the Center for Big Bend Studies on November 9th. Tom Crum served as chair. Troy Ainsworth presented "Civic Cathedrals on the High Plains, in the Trans-Pecos, and on the Edwards Plateau," Bruce Glasrud presented "Bibliophiling West Texas African American History," and Paul Carlson presented "The Ozark Trails and Early Highways in West Texas."

We would like to extend our condolences to the family of Mrs. Barbara Neal Ledbetter on her passing. Barbara wrote a lot on Texas topics and had submitted several articles to the Yearbook over the years. More information on her career can be found here.

Congratulations to Bill Neal, winner of the 2007 Book of the Year by the National Association for Outlaw and Lawman History, for his latest publication, "Getting Away with Murder on the Texas Frontier."

Troy Ainsworth, El Paso's new historic preservation officer, was recently featured in an El Paso Times article.

Leland Turner, a Visiting Lecturer in History at Angelo State University, will be traveling abroad to Australia as a Fulbright Scholar.

Professor emeritus of history, Dr. Frederick W. Rathjen was named a Fellow by the Texas State Historical Association at its 2007 meeting.

Longtime supporter Alvin G. Davis was honored at the "Masked Rider Transfer of Reins" ceremony on April 20, 2007.

Ty Cashion, Associate Professor of History at Sam Houston State University, has been elected to membership in the Texas Institute of Letters.

Gene Preuss is recipient of a one month Formby Research Fellowship at the Southwest Collection/Special Collections Library at Texas Tech University. His research will focus on Lauro F. Cavazos and Hispanic education. He has also been nominated to serve on the Oral History Association Council.
---
2006:
Paul Carlson, Life Director of the Association, was the featured speaker at a dinner hosted by the Board Members of the Texas Historical Foundation, in Lubbock, Texas, on Friday October 20, 2006. Author of the recently published "The Plains Indians" (Texas A&M Press), Carlson regaled the group with historical perspectives and vignettes. Carlson is the Director of the Texas Tech Center for the Southwest and Professor of History at Texas Tech University.
Freedonia Paschall became a Certified Archivist after passing the Certified Archivist Exam in Washington, D. C.
Paul Wright, a WTHA board member, was interviewed in the Houston Chronicle for an article entitled, "Influx of Hispanics skirts rural counties As cattle, oil industries decline, so does population" [August 26, 2006]. "Pecos looks like a neutron bomb has hit it," said Paul Wright, a rural demographer at Sul Ross State University in nearby Alpine. "It wipes out the population, but the buildings are still standing."